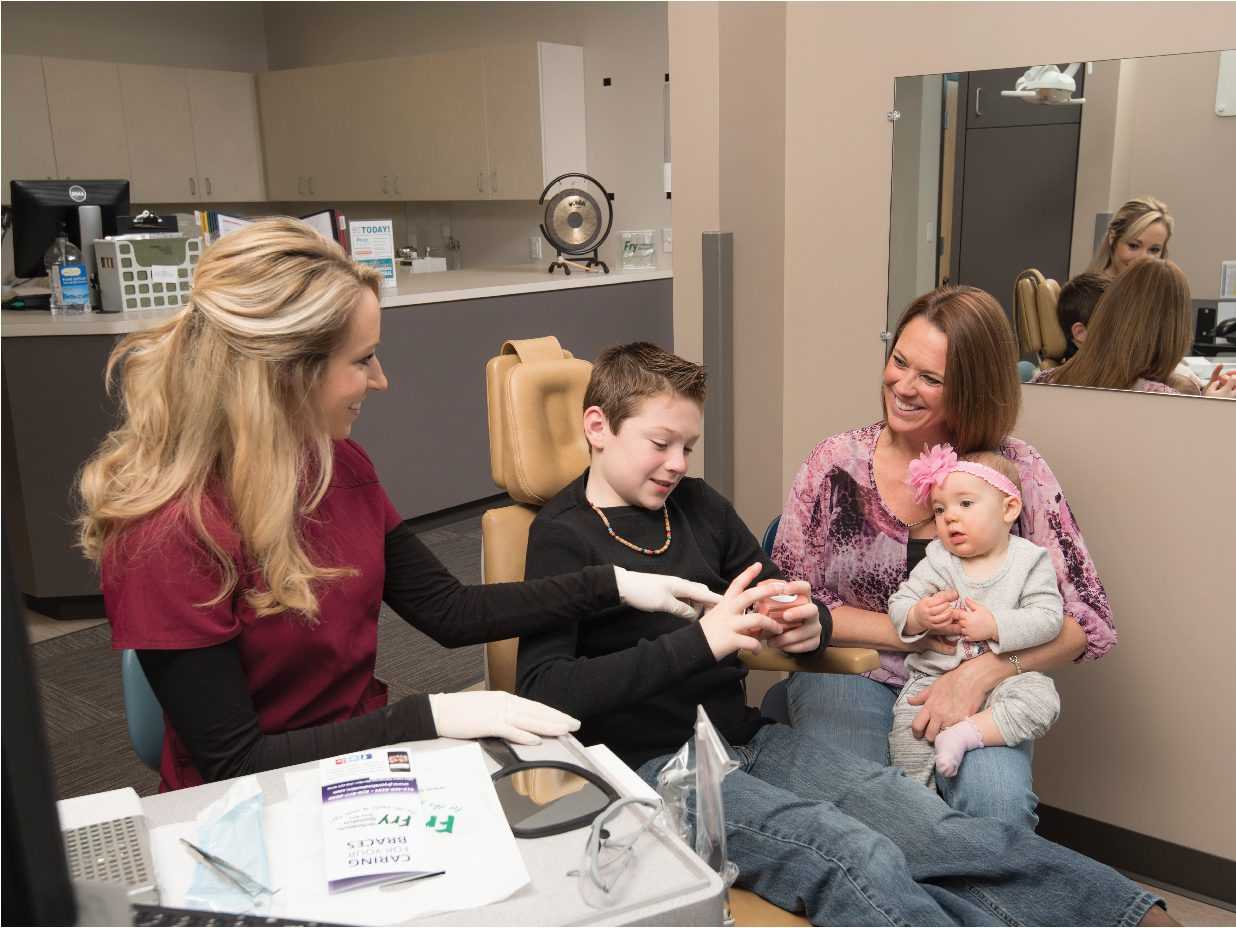 At Fry Orthodontics you will receive a different kind of orthodontic experience. Here are a few of the reason why you should choose to receive braces or Invisalign at one of our convenient Kansas City locations:
Free Initial Exams
At Fry Orthodontics, initial exams for braces or Invisalign are free of charge and include panoramic x-rays and digital photos. We offer both In-Office Exams and Video Exams that can be completed from the comfort of your home. To learn more about our video exams, click here.
Affordable Payment Plans
Our affordable payment plans are customized to fit your monthly budget, including a special savings offer for multiple family members in treatment. We also accept Care Credit!
Insurance Accepted
We're happy to assist with filing all insurance paperwork and can provide orthodontic insurance estimate prior to starting treatment.
Highly trained doctors and skilled team members
Our doctors and team members are committed to providing you and your child with an exceptional orthodontic experience.
Leading Provider of Invisalign
Fry Orthodontics is the leading provider of Invisalign in the entire Midwest. We have treated over 5,400 patients successfully with Invisalign since 1997.
Conservative approach to treatment
At Fry Orthodontics, our conservative approach to treatment avoids removing permanent teeth and limits unnecessary early treatment and extra appliances. This ultimately saves you money and allows most children to only wear braces once.
Shorter treatment times
The average treatment time in braces at our office is only 16 months. It our goal is to finish your treatment AND each appointment on time.
Convenient locations in Kansas and Missouri.
We have convenient locations throughout the Kansas City Metro. Choose a location close to your work, school or home. Click here to find a location close to you!
We Are Teachers in Our Industry
Fry Orthodontics provides leadership at three orthodontic universities. We've assisted with the design and development of innovative orthodontic techniques for over 40 years.
After hours patient assistance.
We recognized that situations may occur throughout treatment that cause discomfort. This is why we offer after-hours patient assistance in the evenings and on the weekends.
Fry Orthodontic Specialists
913-469-9191 | 816-877-0050 | info@fryorthodontics.com
www.fryorthodontics.com