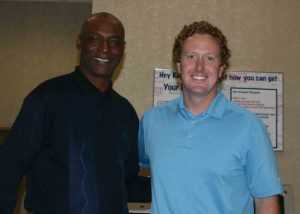 Yesterday, we were very lucky to have Kansas City Royals Great, Willie Wilson, stop by the office from 2-5p and sign autographs and meet patients and people from the community. I remember watching Willie as a kid…back when the Royals were awesome! He played like no center fielder we've had since. He played before the days of the mega contracts and the constant moving from one team to another. He was a Royal, and he stayed a Royal. Even through very public adversity early in his career, he emerged as a terrific ambassador for the Kansas City Royals and for the entire city.
I have been fortunate to work with Willie on the Board of Directors of TeamSmile, and the rumors are true: He exemplifies the philanthropic spirit that defines a true role model! I wish we had more people on this earth like Willie Wilson!
We are very proud that he stopped by our office for the afternoon, and we appreciate his generosity in supporting the Kansas City community.