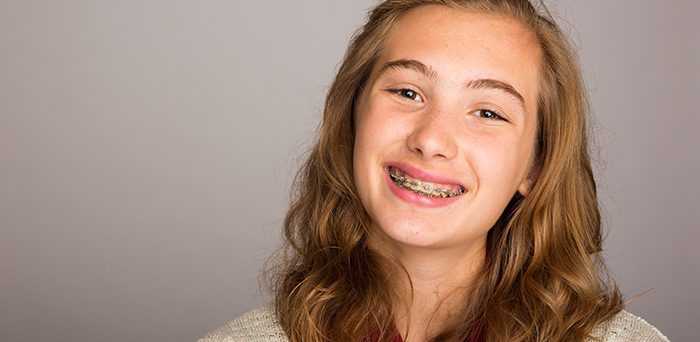 This is a frequently asked question at Fry Orthodontics! You may have known someone who wore braces twice, once as a younger child and again as a teen. If you've been wondering about the orthodontics timeline, here is some helpful information.
Initial Evaluation at Age 7
The American Association of Orthodontists recommends that children see an orthodontist when they are 7 years old. Though most patients are not ready for treatment, these early screenings provide useful information for planning and improve the success and effectiveness of orthodontic treatment when the time is right. There is no charge for your first exam appointment in any of our Kansas City area offices. We will take any necessary x-rays, digital photographs, and perform a thorough examination of your smile, all at no charge, to help you determine the best time to start treatment and minimize your time in braces.
Most Patients Wear Braces One Time
Most Fry Orthodontics patients wear braces one time for an average of 12-14 months. Only in rare cases is a two-stage treatment approach required. In a two stage approach, phase one typically focuses on a specific problem-area, while the second phase completes the corrective treatment.
Timing and Treatment Options
There are many treatment options available, including traditional metal braces, ceramic braces or the Invisalign system of custom fitted, clear plastic trays. We'll help you understand the options that will work best for your smile goals and the approximate timeline for completion. Regular appointments and carefully following instructions will help you complete your treatment on schedule. For example, if wearing rubber bands is part of the treatment plan, doing so consistently is essential!
Remember Your Retainer
Braces can work wonders for your smile, but the work isn't done when the braces come off. Be sure to follow instructions on wearing your retainer. Your retainer keeps your smile looking new, but not wearing it can undo the work your braces did. We see many adult patients who wore braces as a youth, but their teeth shifted because they didn't wear their retainer.
At Fry Orthodontics, we recommend patients wear their retainers for the long term. We know they can be easy to lose or break, which is why we offer free retainers (up to a $400 value) for life.
To schedule an initial exam or learn more about what type of braces treatment is right for your smile, contact us today to schedule an appointment at one of our 14 convenient locations. Your first exam is free!