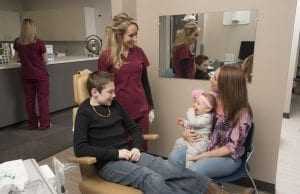 At what age should the first baby tooth be lost? When should the last one fall out? Is there a predictable order?
The first baby teeth (also known as primary teeth) to come in are usually the lower central incisors around the age of six months. The last baby teeth to show up are the upper second primary molars, and they appear between 30 and 36 months of age. There are normally 20 baby teeth by the time a child reaches age 3. These primary teeth then remain unchanged for about three years.
Not much happens to the baby teeth between 3 and 6 years of age. Between 6 and 8 years however, there is a flurry of activity as kids normally lose eight primary teeth in rapid succession. Between age 8 and age 10 there is another two-year pause that catches many parents by surprise since they have become accustomed to teeth being lost left and right. The last twelve primary teeth are then lost between ages 10 and 13.
Although there are always exceptions, there is a basic sequence for the loss of the baby teeth. The upper and lower front four teeth are usually lost between the ages of 6 and 8. This typically begins around age 6 with the lower central incisors followed by the upper central incisors. The upper and lower lateral incisors then come in between 7 and 8. So by age 8, children should have all eight of their permanent incisors in place.
After a two-year break (about age 10), the next four baby teeth to be lost are the lower canines and upper first molars. These are typically followed around age 11 by the lower first molars. The lower second molars tend to be lost about the same time as the upper canines and second molars. This usually happens in the 12th year.
These are merely averages however. Some kids lose teeth faster than this. Others lose them slower. It is not unusual to see a 10-year-old with no baby teeth remaining, nor is it surprising to see a 14-year-old still hanging on to a few. The actual ages are not as important as the pattern.
If baby teeth are not lost in the right order, or if a tooth is lost and more than three months go by without a permanent replacement coming in, there may be a problem. Some possibilities include missing teeth, crowding, problems with the tooth loss mechanism, or the underlying tooth is just crooked and it is not pushing out the one above it. These are all conditions that your orthodontist will look for during your child's orthodontic evaluation. Your doctor can tell you if everything is normal or if interceptive procedures are warranted (i.e. having your dentist help move things along by removing some primary teeth). Set up an orthodontic appointment for your child around age 7 so that you can benefit from the expertise of a doctor who specializes in dental growth and development. Even if there is nothing wrong, it is always a comfort having that peace of mind. ~Linda