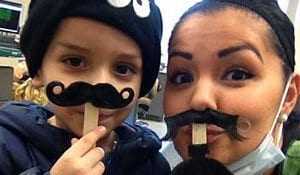 Yes, you've heard it before, but…. We "mustache" you a question!
How do you wear your beard? Curly, straight, braided, or free flowing? Maybe you wear it proud like the Duck Dynasty guys! Or maybe you braid it? Or maybe you carry your sandwich in it? (Seen those pics on the web?!)
Beards look marvelous in all kinds of styles. Well… most styles. These pictures show some very "wild and crazy" ways to wear facial hair! And to enjoy laughing over facial hair, here are our top 10 reasons to grow a beard:
Join Fry Orthodontic Specialists in our efforts to raise men's health awareness and raise funds for the American Cancer Society! We have partnered with the No-Shave November campaign. Your participation will help start conversations about men's health issues, raise funds for cancer research, and save lives.
Guys, skip the shaving this month and get creative! Kids & Ladies, you can participate by sharing a virtual beard or mask. Take pics of your pets too! Share your beard and mustache pictures on our No Shave Gallery. We want to see you scraggly for a cause!
PLUS! Every time you post a photo of yourself or family member (pets too!) on our gallery, or share these No-Shave blogs and social media posts, Fry Orthodontic Specialists will donate $1 (up to $20,000!) to the No Shave November Foundation!
We've got more info and hair at our blog!