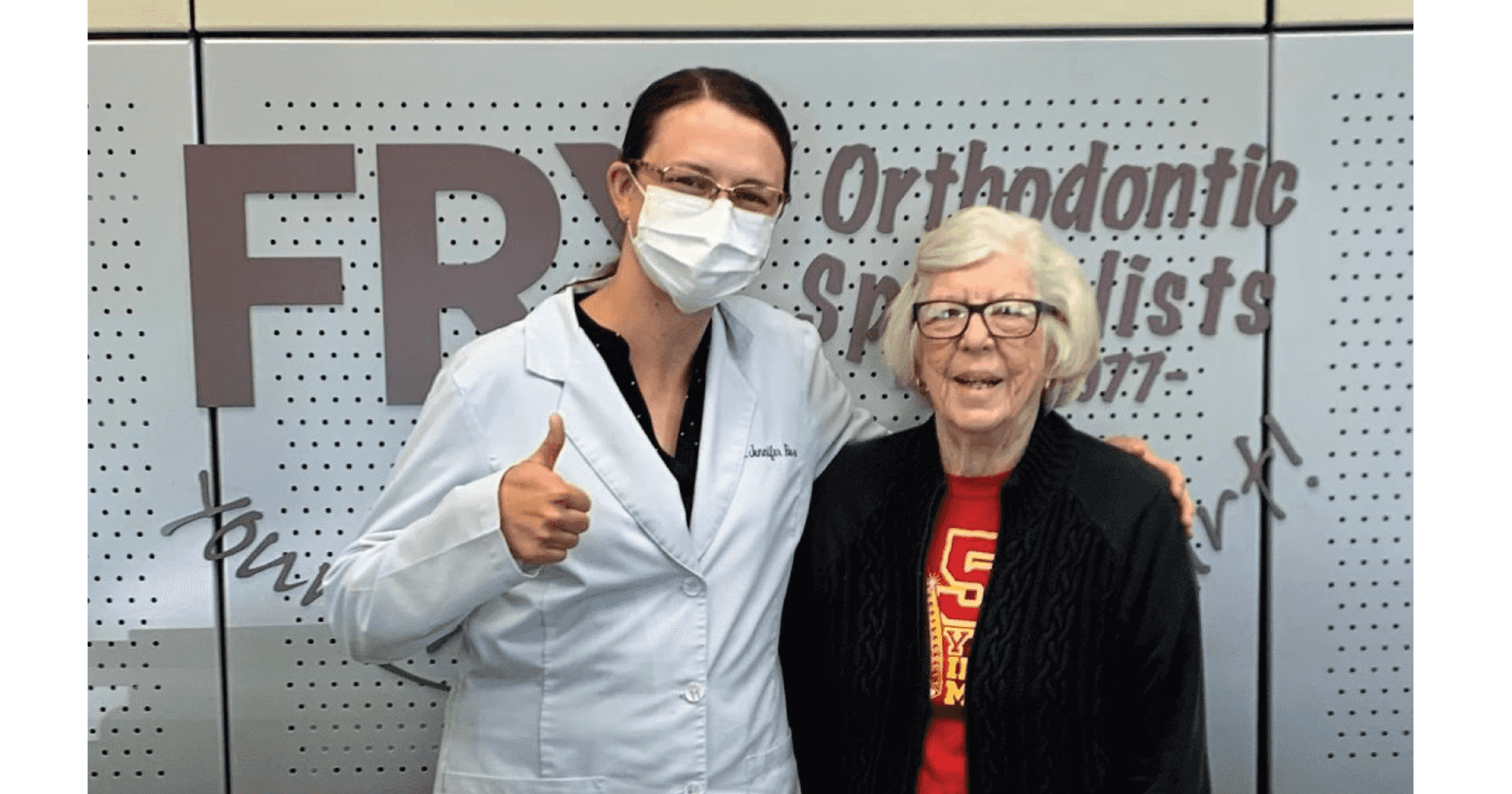 There are many people who choose not to fix their smile later in life because they think they are too old for braces or Invisalign. The truth it, there is never a wrong time to give yourself a confident, beautiful smile that you deserve. At Fry Orthodontics, we help patients of all ages achieve results they can be proud of, and work with them to make sure they are comfortable along the way.
Straightening your Teeth as an Adult
Whether you are 10 or 80, the process of straightening teeth is the exact same and you are never too old for braces or Invisalign. Adults have denser bone tissue than children, so it may take your Orthodontist a little bit longer to move your teeth, but not by much! Some adults often worry that because they have a missing tooth or crown they won't be a candidate for orthodontic treatment. This isn't the case! Your Orthodontist completed his/her education as a dentist before specializing in Orthodontics, so they are happy to help you through those situations while working closely with your general dentist. These are common concerns among many adults who step foot in our practice, but we guarantee the best care and results for their smile.
Orthodontic Options
Braces- As an adult, there are different options for straightening your teeth. At Fry Orthodontics, we offer two types of traditional braces, metal or clear ceramic. If choosing the traditional braces route, you will have the option of adding fun colored rubber bands to customize your smile however you'd like.
Invisalign-  Invisalign is a very popular choice among adults because it's the invisible way to straighten your smile! A series of clear aligner trays help move teeth into the proper position over time. Invisalign has progressed so much with its technology over the years! Now, most cases can finish in the same amount of time as if braces were worn. At Fry Orthodontics, our average treatment time is just 16 months!
The Benefits of Choosing Orthodontics at Any Age
Another reason you are never too old for braces or Invisalign, is because of the dental health benefits that come along with straightening your teeth! It's not only a cosmetic investment, but an oral health investment as well. There are numerous studies on the health benefits of having straight teeth, and how much easier it is to keep the mouth clean when everything is in proper alignment. Poor oral hygiene can lead to other health concerns down the road such as heart disease and diabetes. Don't let your age stand in between you and a confident, HEALTHY smile!
Ready to Schedule?
We can't wait to prove to you that you're not too old for braces or Invisalign! If you're ready to get started, or would like to schedule a FREE consultation, click here  or give our office a call to schedule an appointment at one of our convenient Kansas City locations.
913-469-9191 | 816-877-0050