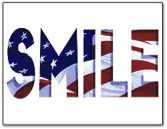 Since 2009 we have had special stations, in all 3 of our offices, set up with supplies needed for our patients, parents and young friends to complete letters or colored pictures to send to our military personnel.
We have sent hundreds of notes and pictures to soldiers overseas and we hope that these notes give strength and encouragement to the soldiers while they were separated from their loved ones.
As the 4th of July nears and we start to make plans to celebrate with our families  and loved ones we want to encourage everyone to take time to remember those still serving and protecting our country and let them know how much their service means to all of us.
During July you'll find these special patriotic postcards at the stations in our office.
We hope that you'll take time to write a note that's sure to make a soldier smile!
Feel free to pass this information to any groups, organizations or other friends and families you feel would like to participate.  We're glad to accept letters from groups and dental friends outside the office to include in the packets we send overseas.