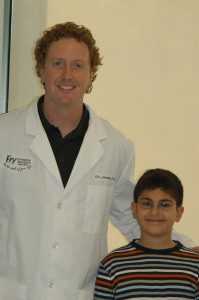 We are very excited to announce our first 2 Smile for a Lifetime scholarship recipients: Chuy and Ahmed!
Smile for a Lifetime Kansas City is a component of the national Smile for a Lifetime program based in Arkansas.  This program was developed by Dr. Ben Burris, a good friend of mine, from Jonesboro, Arkansas. As the website states:  Smile for a Lifetime Foundation is a charitable non-profit organization that provides orthodontic care to individuals who may not have the opportunity to acquire assistance. Launched in 2008, Smile for a Lifetime Foundation aims to reach individuals with financial challenges, special situations, and orthodontic needs. The Foundation sponsors the orthodontic care of hundreds of patients each year.
Ahmed
Ahmed and his family are refugees from Iraq.  They have spent time in Jordan and recently relocated to the Kansas City area.  A world away from home, his parents have struggled to find jobs.  Their strong family bond is apparent even in the picture below.  You could not find a more beautiful family searching for everything that the US has to offer.  We hope that our small token for this deserving child and family can help them find upward mobility in this great country that we call home.
Luis, "Chuy"
Chuy came to our office accompanied by his mom and school nurse. His school nurse conveyed a very touching story about the struggles Chuy has experienced at school due to his smile. As all of us know, kids can be very cruel, and unfortunately, Chuy's teeth was the source of much ridicule.  His mom works two jobs and does the best she can for her family.  We are very proud to have Chuy as one of our Smile for a Lifetime scholarship recipients.
Applications can be found on our Smile for a Lifetime webpage.  The next group of deserving scholarship recipients will be selected in January, 2010.
Dr. Jeremy Fry