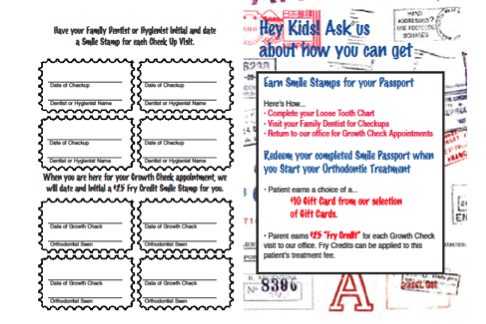 Parents you can Earn a $25 "Fry Credit" for each
Checkup Appointment in our office!
The American Association of Orthodontics recommends that all children have an orthodontic evaluation by age 7.  Following this guideline, Fry Orthodontics, offers free Initial Exams and free follow-up Growth Checks for your child.
Seeing your child, at least once a year, for a Growth Check appointment helps us assist you in determining the best time for any necessary orthodontic treatment.  When we monitor your child's growth and dental development, over time, it makes it easier for us to provide an accurate and timely treatment plan and ultimately to provide your child with a beautiful and healthy smile.
To encourage these timely checkups we are now offering parents a $25 "Fry Credit" for each completed Growth Check appointment.  These credits are recorded on the "Smile Passport" seen below and can be applied to your child's treatment fee when orthodontic treatment begins.  Make sure to pick up a Smile Passport at your next Growth Check appointment and start earning your $25 "Fry Credits" today.
Dr. Jeremy