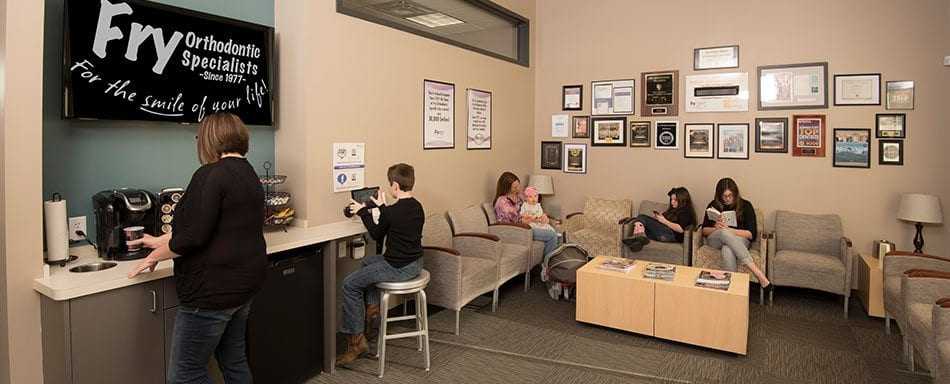 Ever wonder what makes Fry Orthodontics different?
Dr. Jeremy Fry explained in the recent publication of the Journal of Orthodontic Treatment how his operational excellence strategy differs from his competitors.
There are many successful orthodontic offices that see more than 100 patients per day and are staffed with numerous team members. Although this brings in high revenue, Dr. Jeremy says it's not the approach they choose to take at Fry Orthodontics. "I'm sure systems like these work great for many offices, but we have found that those types of busy days are not conducive to building great relationships."
Small Office with Sophistication of Large Business
One of the values at Fry is to maintain a small office feel and have the sophistication of a large business. In order to accomplish this, they have built an operational excellence strategy that facilitates the best of both worlds.
The model typically focuses on a 2,500-square-foot space with six treatment chairs and two Treatment Coordinator chairs.
Additionally, Fry Orthodontics has a one centralized patient care (call) center which focuses on patient intake and scheduling. This allows the receptionist in each office to focus on greeting and welcoming patients into the space, rather than answering the phone all day.
This layout has proven to create a successful work environment, without overwhelming the employees and doctors at the end of the day.
Committed to Quality Care
The belief that large companies can't provide good patient interaction is a common stereotype that Dr. Jeremy wanted to debunk. Although this practice has many offices, staff members only float between a couple locations. Not only is this ideal for Fry employees, but it's also comforting for patients to see the same faces at every appointment.
When asked how his growing number of offices maintains quality of care, Dr. Jeremy referred back to something his father had taught him years ago; only expect what you inspect.
"We believe that having multiple doctors inspecting treatment plans, mid-treatment care, and finished results is actually better quality control than most traditional orthodontic offices have in place."
Having a clinical director on staff to evaluate every treatment plan and every finished patient is another way Fry makes sure their patients are receiving the best quality of care.
Team Effort
Weekly doctor meetings gives this practice the ability to discuss individual patients, and treatment systems, in order to find the best possible solution. Dr. Jeremy believes that this robust system of quality checks cannot be implemented without multiple doctors and offices – he truly believes this is what sets Fry apart from the rest.