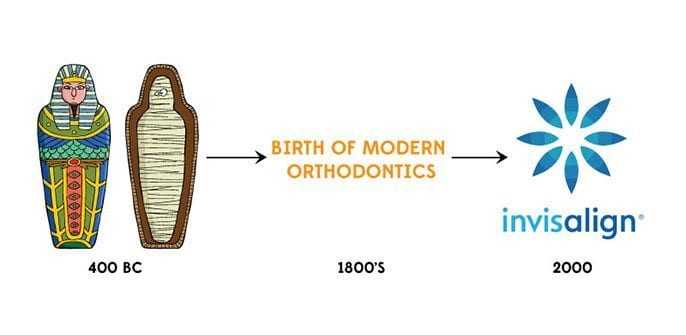 Orthodontic braces weren't invented until the early 1800's, but people have been trying to artificially straighten teeth for a much longer time. Several mummified remains around Egypt show evidence of the earliest kind of "braces": catgut cords wrapped around and along teeth, much like modern orthodontic wire is used today. Even pharaohs wanted to improve their smiles!
We've made a lot of progress since then, much of it in the last 10-15 years. Here are a few ways that braces have changed and improved in that time.
 Style Options
It used to be that braces only came in one style: metal. Now you can choose brackets and bands in a wide variety of colors. You can even get ceramic brackets that are just as strong as metal and blend in with your teeth.
New Metal Tech
The wires in modern braces are made from a heat activated alloy that applies constant, gradual force when the wires are at mouth temperature. This speeds up the straightening process, eliminating the need for multiple appointments for the orthodontist to manually adjust the wires.
Better Planning = Faster Treatment
Advances in x-ray technology, photography, and computer simulation helps enhance orthodontic diagnosis and treatment planning.  Your orthodontist uses these tools to develop a personalized plan for treatment before the braces are even attached.
Beyond Brackets
The latest orthodontic technology allows you to forego brackets and wires altogether. The Invisalign system uses clear plastic aligner trays molded to your teeth.  A series of trays are used to straighten teeth over the course of the treatment.
Braces today are more effective and comfortable than ever before. Contact Fry Orthodontics today and find out how braces or Invisalign can help you straighten your teeth and give you the smile you've always wanted.