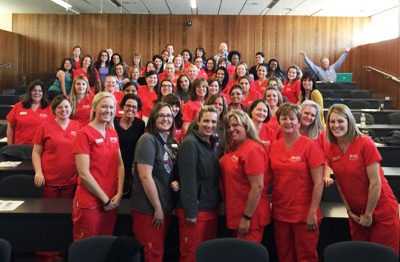 Check us out at our staff meeting! This meeting was a very special one for all of us and was extremely motivational. Big thanks to Dr. Jeremy for being such an inspiration!
"What does it mean to be living?" This is the question Dr. Jeremy asked us in our last meeting. His question came from a book he was reading, and in this book, there was a simple explanation. "Living is Giving." As members of the Fry Orthodontic team, we take these words to heart. Everyday we strive to give to our patients, their families, and our fellow staff members. Not only do we want to give them the best looking smile and a big boost of self-confidence and pride, we take it a step farther and go above and beyond to make each one of them feel like a member of our Fry family. To do this, Fry Orthodontics has developed 12 values that guide us through our daily working lives. These values are an extension of the personal values and beliefs of the leaders in our practice and demonstrate what we feel is important in both business and in life. We work hard to find ways to incorporate these values into our systems and patient care everyday.
Fry Orthodontic Specialists Values
Do What's Right
Treat Others the Way They Want to Be Treated
Be Honest
Necessary Outcomes from Fry Values:
Stay on Time in Treatments and Throughout Every Day
Maximize Smart Opportunities to Grow
Investigate Plenty and Utilize What Works
Listen
Eliminate Excessive Orthodontic Treatment
Treat Patients to THEIR Goals
Embrace Investment in Our Communities
Advocate for Team then Patients
Maximize Small Office Feel with Sophistication of a Large Business
These values are a great example of our way of giving. "Living is Giving." These few words really touched home to all of us. Dr. Jeremy is always one for giving the best motivational speeches and bringing us all to tears. As we concluded our meeting we were left with a goal. Dr. Jeremy empowered each and every one of us to give to someone in our life that was truly in need. What an amazing feeling it is to give, and to work for a company that cares about making a difference in the lives of others.