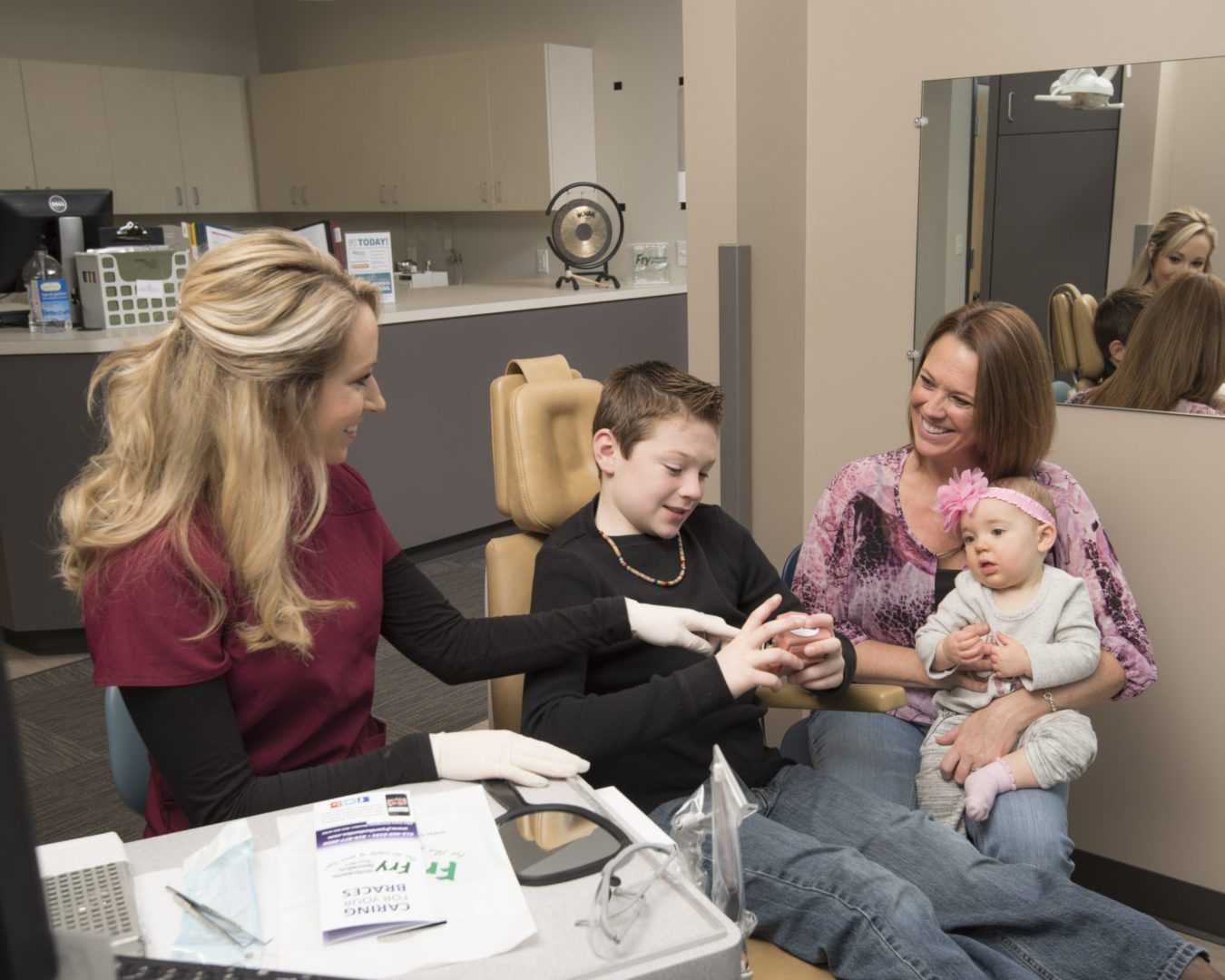 Did you know the American Association of Orthodontists recommends your child be seen for their first growth check appointment by the age of 7? At Fry Orthodontics, these appointments are free of charge and allows us to monitor your child's oral growth and development to ensure he/she get's started with orthodontic treatment at the perfect time.
What is a growth check appointment?
A growth check appointment doesn't mean your child is ready to get started with braces. In fact, at Fry Orthodontics, we rarely start children with braces until all of their baby teeth are gone! We strive to make sure our patients only have to wear braces once, and growth check appointments help us stay on top of changes occurring in a child's mouth.
When bringing your child into our office for one of these visits, it will be a very relaxed setting and quick evaluation by our Orthodontist. At this time we will answer any questions or concerns you may have, as well as develop a relationship with your child months or even years before getting started with treatment.
What is the doctor looking for at this Orthodontic visit?
There are a variety of things our doctor will be looking for when seeing your child at their annual growth check appointments. These include:
Underbites
Excessive Spacing
Crossbites
Missing Teeth

A panoramic x-ray will allow us to see if there are any missing teeth that will not be coming in.

Functional Shift

When the jaw shifts to one side as the teeth come together

Extra Teeth
Crowding

When teeth are overlapping

Impacted Teeth

When a tooth fails to erupt from the gums
The conditions listed above are commonly seen in orthodontics and do not necessarily mean your child will need to get started with braces or Invisalign right away. Crossbites are one of the few problems that would require early intervention and a phase 1 of orthodontic treatment.
What to expect at my child's growth check appointment
When you bring your child in for their annual growth check appointment, they will typically receive an x-ray at no cost to you, and get pictures taken of their teeth. These images will help our doctor evaluate their teeth and jaw growth in order to determine a future plan for orthodontic treatment. Having these images is crucial for us to detect any issues listed above, and will be a determining factor on when braces will be needed.
Your child will also have the opportunity to tour our office, meet the team, and get comfortable with us before getting started! At Fry Ortho, we treat our patients like family and enjoy learning about each person's individual smile goals. Tell us how you envision your smile and we will do our best to make it happen!
Schedule your FREE EXAM today!
At Fry Orthodontics, we offer both in-office and video consultations free of charge. Schedule you or your child's appointment now by clicking here or give our office a call at (913) 469-9191.