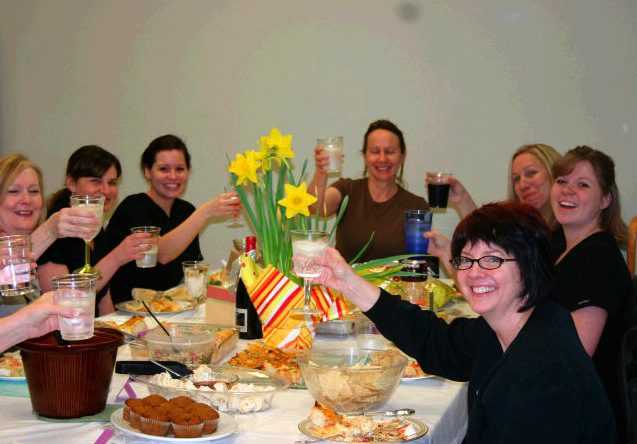 Recently, 11 Fry Orthodontic Team members gathered for the first official "Fry Recipe Club" Luncheon. This group shares the motto:  Good Food, Good Health, Good Friends and Good Times! They enjoyed preparing and sharing new recipes for chicken enchiladas, bread, lime cheesecakes, white chocolate party mix, lemon bread pudding, pumpkin muffins, guacamole, tortilla wraps, rice, and spicy Mexican dip.  After a wonderful lunch and a chance to share stories and laughter they voted for the "Best Recipe." The winning dish was "Lemon Bread Pudding" Brace-Friendly Recipe below.
The next "Fry Recipe Club" meeting is in early June with a "Picnic in the Park" theme and hopefully a chance to enjoy eating outside.  Watch for the next winning recipe!
Limoncello Bread Pudding (Serves 6)
1 16oz day old Italian Bread cut in 1 inch cubes
7 Large Eggs
½ Cup Sugar
¾ Cup Whip Cream
¾ Cup Milk
¼ Cup Limoncello
1 teaspoon Vanilla
Limoncello Syrup
½ Cup Lemon Juice
½ Cup Sugar
Cook till mixture come to boil, then boil 1 minute and cool.
1)     Preheat oven to 325 degrees
2)     Arrange Bread cubes in lightly greased 9 inch square pan
3)     Whisk eggs and next 5 ingredients and pour over the bread.  Cover with foil and let stand 20 minutes
4)     Bake for 30 minutes then uncover and bake 20 minutes more until golden color
5)     Top with Ice cream and drizzle with the Limoncello syrup
Here are some of the other great items: