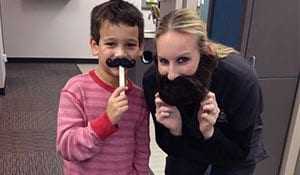 After the first week of our No Shave November event, Fry Orthodontics has donated a total of $370 to the No Shave November Foundation. We would like to give a shout out to all of  those who participated by sharing, commenting, and posting on our Blog and Facebook last week! We loved seeing all your awesome pictures! Keep posting and get creative! We have 3 weeks to go and so much more money we can donate! See the flyer below for instructions on how you can donate a $1 by just hitting a button! It's so easy and you don't have to give any money from your own pocket (unless you just want too!).
Share our posts and encourage your friends and family to share them as well. We want to donate as much as possible and we need your help to do so! So get out there and start sharing!!! Remember, you can also share your photos on our webpage. Just go to our Fry Orthodontics No Shave November page. We already have some awesome entries so check them out!
Here are the instruction on how to participate in our No Shave November event!