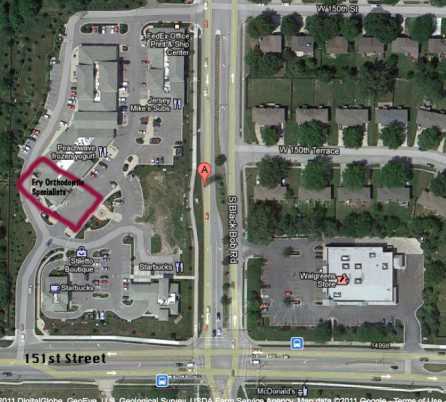 As many of you now know, our current Olathe office at 1061 E. 151st Street had to be closed suddenly due to safety concerns related to the building construction.  We have spoken with many of you and truly appreciate your flexibility with this sudden change.  We know that moving appointments and traveling longer distances to other offices has inconvenienced many of you, and we are going to work hard to make this up to you!
We are excited to announce that we will be opening a new Olathe location at 15060 S. Blackbob Road (on the northwest corner of 151st and Blackbob-just behind Starbucks) in early March, 2012.   Construction on this new Olathe office is progressing as quickly as possible so that we may continue to offer the same great service and a convenient location for our Olathe families.
If you are currently needing an appointment before the new location opens, we will be happy to schedule you in our Overland Park office at 119th & Quivira or our Blue Valley office at 151st and Antioch.   You can reach us at (913) 469-9191 to schedule at any location.
We apologize for this temporary inconvenience and appreciate your patience and flexibility during this transition.  We have loved providing care for patients and their families in Olathe since 1977, and we look forward to serving you in the future.
Dr. Jeremy