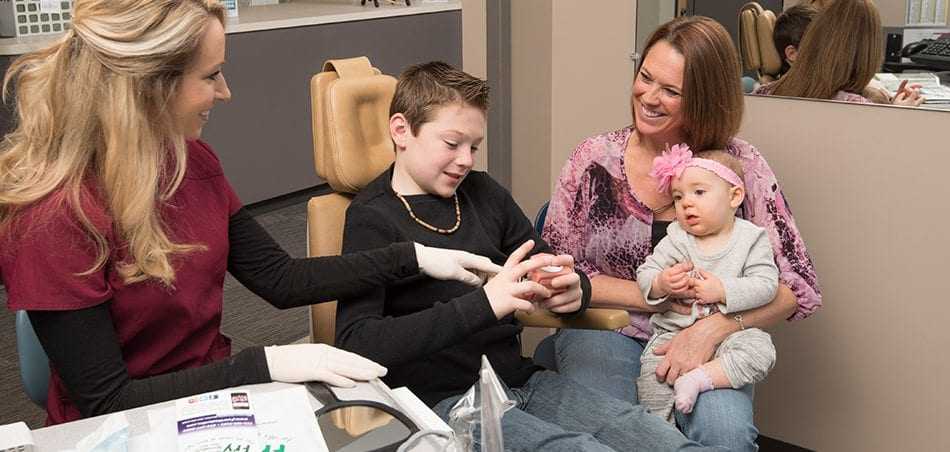 Your first orthodontist visit at Fry Orthodontic Specialists is free and a great way to meet the Fry team and doctors, and learn about the benefits of braces. During your first visit, our orthodontic specialists will provide you with information on the recommended treatment options (including clear and metal braces or Invisalign), cost, payment plans and time needed for treatment.
Scheduling Your First Orthodontist Visit
When you call to make an appointment our Patient Care Specialist will schedule an appointment at a location that's convenient for you. If you prefer a specific orthodontist, just ask!
Before the appointment, you will receive a welcome letter that provides information on how to access your patient account on our online patient portal. Prior to your first appointment, we ask that you please fill out the health history and patient information forms located on the patient portal. If you need assistance with your online patient account please contact our office at 913-469-9191 or 816-877-0050.
Meet Your Treatment Coordinator
After check-in, you'll be greeted by one of our knowledgeable Treatment Coordinators. The Treatment Coordinator will review information on your health history and other forms, take the necessary x-rays (panoramic) and digital photos of your teeth, bite and facial profile.
Meet Your Orthodontist
After the Treatment Coordinator finishes taking x-rays, you'll meet one of our highly skilled orthodontists. Each orthodontist has extensive experience in helping patients with the alignment of their teeth, improving their bite, and achieving a healthy, beautiful smile.
The orthodontist will get to know you by asking a few questions, including any concerns you have about your smile or oral health.  They will examine the position of your teeth, bite, x-rays and photos to recommend treatment plans that align with your personal smile goals.
Treatment Plan
Both the doctor and Treatment Coordinator will discuss your treatment plan options, including any steps needed to prepare for braces, and the features and benefits of the different types of braces.
Types of Braces
Invisalign: Invisalign aligners are virtually invisible and easy to clean.
Metal: Today's metal braces use high-tech wires and have a streamlined appearance.
Ceramic: Ceramic braces are not very noticeable and blend in with the color of your teeth.
Payment Options
Fry Orthodontics offers flexible payment options including:
$189 per month and no down payment
10% discount for payment in full
Multiple family members discount
Free retainers for life
Meet the Patient Care Team
There's no pressure, but if you're ready to begin treatment, and don't have any pending dental work, we can usually start treatment on the same day as your first exam!
Before we begin, you'll sign consent forms and watch a short video that explains important information about caring for your braces or aligners.
Next, our patient care team will guide you thru the starting process and will be here for you throughout treatment. Our Patient Managers will assist with wire changes, elastics, and answering your questions. Depending on the type of treatment, your next appointment will be in 4-12 weeks.
Schedule your First Orthodontist Visit Today!
We hope we've answered some of your questions about your first orthodontics visit and the friendly team at Fry Orthodontics. Are you ready to get started? Contact us today for your free consultation. Your smile is just the start!