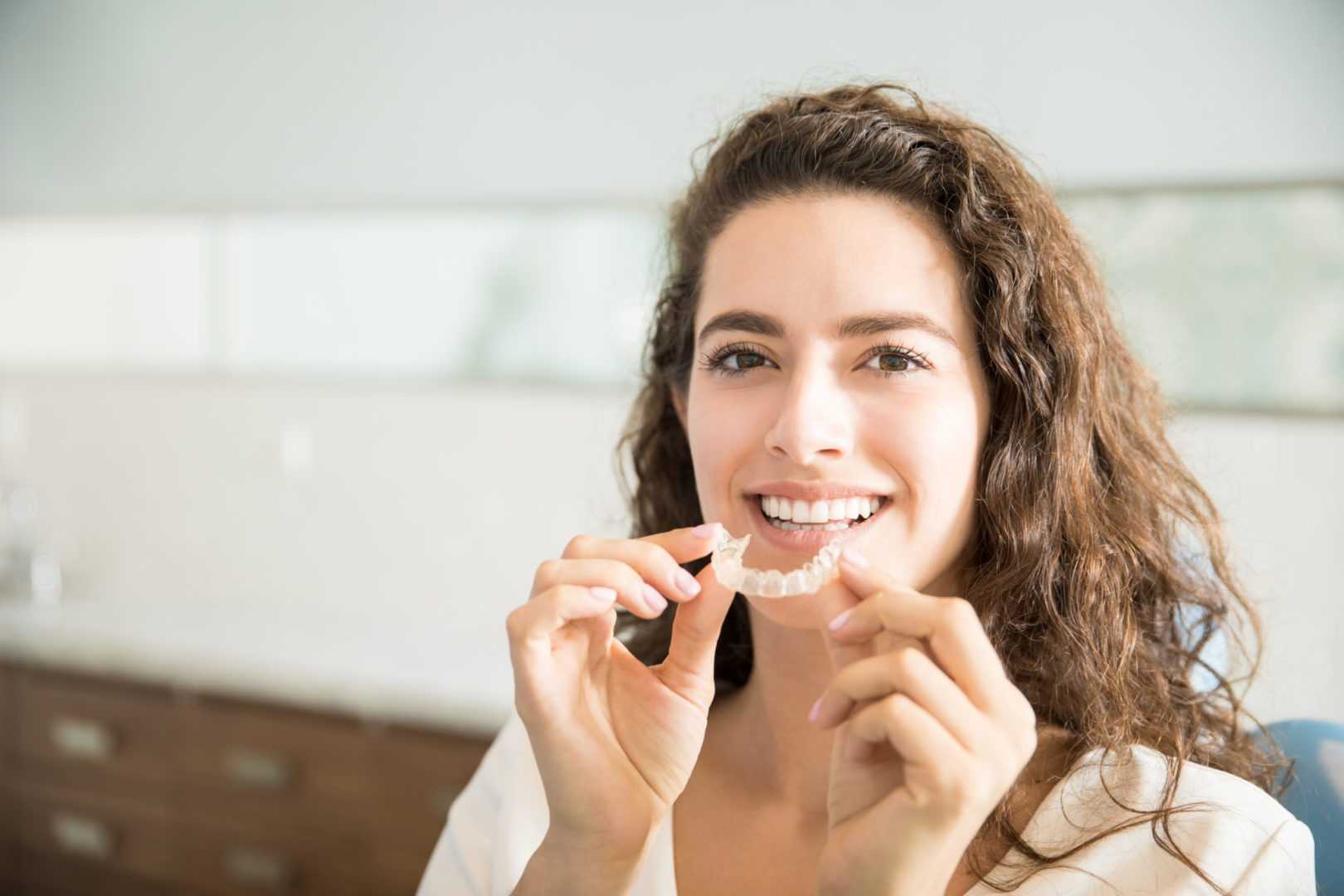 "Straighten your teeth from the comfort of your own home. No office visits required!" …you've seen advertisements like this all over the internet and TV. It's the newest craze in dentistry- DIY teeth alignment! Being able to complete your entire orthodontic treatment plan from home sounds very appealing, but it actually poses many risks to unsuspecting consumers. In this blog, we will explain why it's important to not risk quality for convenience.
DIY Teeth Alignment Companies | Who are they?
There are many companies that now practice "at home" teeth alignment. They usually advertise all over major social media platforms such as Facebook, Instagram and Twitter. Some of your favorite stars are promoting these types of businesses and how easy it is to get trays sent directly to your front door. We get it! This method of straightening your teeth is very tempting AND convenient. However, keep in mind that it can also be very dangerous since you're not being monitored consistently by a specialist. We encourage you to do all your research before committing to a treatment plan like this.
DIY Orthodontics VS. Orthodontic Treatment by an Orthodontist
Direct to consumer orthodontics typically starts with an in-home mold or impression of your teeth. This is done by the patient themselves, not a trained professional. Another issue with this type of treatment is that x-rays are not taken like they are in a typical orthodontic office. X-rays are extremely important in diagnosing any underlying issues that may need to be corrected before moving forward with orthodontic treatment. X-rays can help diagnose the following:
Impacted Teeth
Cyst
Infection
Oral Cancer
During DIY, at-home treatment, there isn't a doctor supervising the progression of your teeth. This alone is the most dangerous aspect of direct to consumer orthodontics. Why? Because Orthodontists are trained to look for issues that can occur at different stages in your orthodontic journey. If a patient is not periodically seen in person, by a professional, these problems will likely never be addressed and could result in some serious damage.
Risks of DIY Orthodontics
Many risks are involved when participating in DIY teeth alignment. Since the treatment is unsupervised by a doctor, irreversible damage can occur. This damage includes:
Gum recession
Bone loss
Infection
All of these can eventually lead to tooth damage and loss of a tooth all together. In order to correct damage like this, you would need to be seen by your general dentist and repair could cost thousands of dollars.
Safe and Efficient Options for Straightening your Teeth
Choose and Orthodontist!
Did you know that an Orthodontist attends school for 10-11 years after high school? Seems crazy, right? But the specialty training they receive is extraordinary! To kick start their education journey, they must first obtain a bachelors degree in science or something related from a four year college. They will then apply to dental school which is an additional four years, and earn their doctorate in General Dentistry. That's right! Before specializing in orthodontics, they must first become a general dentist. Once dental school is complete, they will go another 2-3 years to achieve their residency in orthodontics.
If you choose an orthodontist to complete your treatment for braces or Invisalign, you are in the hands of a specialists who has went through years of training. At-home orthodontic options provide you with zero years of post high school training, meaning you're at a much higher risk for damaging your bone and gum tissue.
Why Choose Fry Orthodontics
As you can see, choosing a specialist to develop a customized treatment plan just for you is the safest, most efficient way to straighten your teeth. At Fry Orthodontics, we hold ourselves to the highest standard and take pride in each case that we treat. It is our top priority to keep our patient's teeth and gums healthy while delivering them amazing orthodontic results. Our doctor see's every patient at every appointment to achieve great quality of care.
Fry Orthodontics' Convenient Video Consultations
We realize that DIY Orthodontics is an appealing option for people who are extremely busy and little free time to visit their local orthodontist. This is why at Fry, we now offer FREE video consultations that can be done from the comfort of your own home via FaceTime or Skype. Our doctor will answer any questions you may have and provide you with a full treatment plan based on what he/she see's during your video consultation. Not only does this save you a trip to the office, but it also allows you to gain the knowledge you need (free of charge) before committing to braces or Invisalign. This program was developed to save people time missed from school and work, while still being under direct supervision of an orthodontist.
To learn more about our video consultations, click here! OR give our office a call at: 913-469-9191