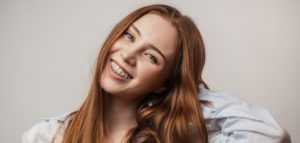 With our offices being closed due to the mandated COVID-19 stay-at-home order, more and more people are looking for ways to care for their smiles at home in between orthodontic appointments. At Fry Orthodontics, achieving the smile of your dreams is our top priority. This blog will provide you with tips on how to continue caring for your smile so that when our offices are back open we can pick up right where we left off!
1) Use proper brushing/flossing techniques
Brushing with braces:
Angle your tooth brush above and below your brackets at a 45 degree angle and brush your teeth in a gentle circular motion. Be sure to reach all the way around each bracket to avoid decalcification (permanent white spots). Don't forget to brush the brackets as well in order to keep them clean and shiny!
Brushing with Invisalign:
Since Invisalign trays are removable, brushing is pretty simple! Remove the trays and brush each tooth as normal in a circular motion.
Brush your gums and tongue:
It's especially important to remember to brush your gums and tongue to avoid bleeding/ puffy gums and bad breath.
Floss at least once a day:
If you're under the mandated stay-at-home quarantine order and have more time on your hands than usual, this would be the perfect time to practice the proper flossing technique and floss after each meal (2-3 times/day). The quickest way to floss with braces is by using a Waterpik. The Waterpik is an efficient tool that helps remove food from between the brackets and archwires. However, it is still recommended to use floss threaders to remove plaque in between each tooth. Floss threaders can be purchased at your local grocery stores: Walmart, CVS and Walgreens!
For more information on properly brushing and flossing, click here.
Rinse Rinse Rinse!
Remember to rinse your mouth with fluoride mouth wash at least once a day. Fluoride helps prevent tooth decay by slowing the breakdown of enamel – this is extremely important, especially in between your orthodontic appointments. If you run out of fluoride mouth wash and are unable to make it to the store, be sure to rinse your mouth out with water after drinking a sugary beverage.
2. Continue to wear your Invisalign, rubber bands and retainers as directed by your Orthodontist
We want to help you take care of your braces/Invisalign in between your orthodontic appointments. Below are ways you can help keep your treatment running on time even when our offices are closed:
Braces– Now is the time to try your absolute best to avoid eating foods that are too crunchy, hard, and sticky. This will prevent you from breaking a bracket. There is still a level of uncertainty on when orthodontic offices will open back up, so please take the extra precautions and handle your orthodontic appliances with care. If you have a bracket that breaks (meaning it fell off the wire or is sliding around on the wire) – do not worry! This is something we will easily be able to fix at your next scheduled appointment once our office is back open. In the meantime, you can put wax on the bracket to prevent it from sliding around or causing irritation on your inner lips, cheeks, or gums. If you have a poking wire, trim it using a nail clipper or apply wax for temporary relief.
Invisalign– Continue to wear and change your aligners as prescribed by your Orthodontist. If you run out of trays do NOT stop wearing them. Switch to wearing them at night time only (like a retainer) to hold your progress in place. If you lose or break the set of aligners you're on, it's ok to skip to your next set of trays. They may feel tighter than usual, but this will ensure you stay on track and don't fall behind in your treatment.
Rubber Bands- It's important you continue wearing your rubber bands the same amount of time your Orthodontist had recommended. If you run out, give our office a call and we will arrange getting you some more!
Retainers– Continue to wear your retainer every night when you go to bed. This prevents your teeth from shifting back to their original position. If you accidentally lose or break your retainer and find yourself without one, please do not hesitate to give our office a call. Although we are not open to see patients, we will do our best to come up with a plan of action to prevent your teeth from shifting.
3) Don't Worry!
Try not to stress about your orthodontic treatment during this time. Our team here at Fry Orthodontics will pick up right where we left off and help you stay on track to achieve the smile you've always wanted! If you have any questions or concerns, please do not hesitate to give us a call at: 913-469-9191. We are here to answer any questions you may have in between your orthodontic appointments.