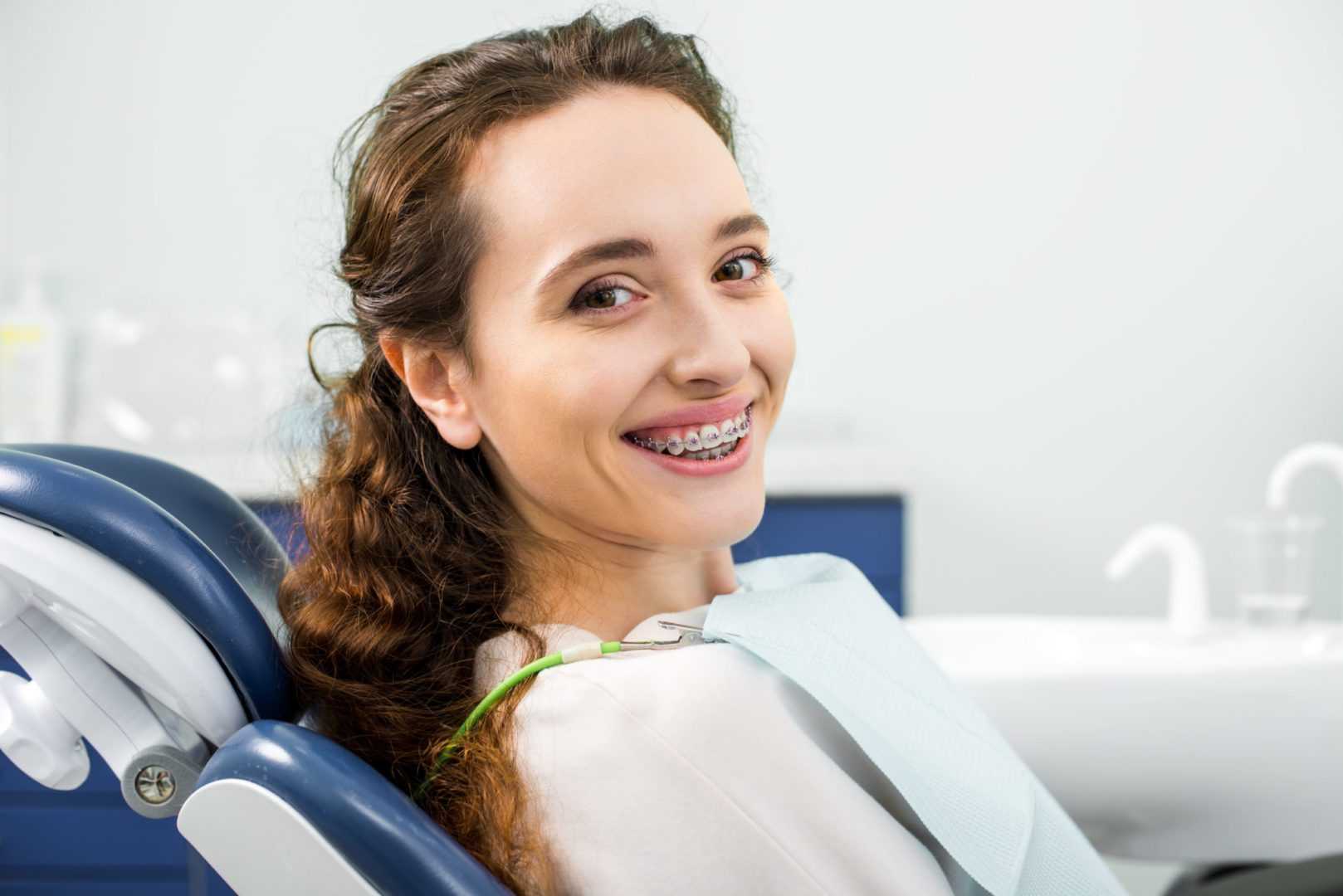 Having braces while pregnant is not uncommon. In fact, at Fry Orthodontics, we have had many expecting mothers choose to go through orthodontic treatment! Here are some tips to follow if you are pregnant or planning to become pregnant while wearing braces.
Advice for woman who wear braces while pregnant
Be sure to make your dentist and orthodontist aware of your pregnancy before starting treatment so they can avoid taking x-rays.
Brush/floss your teeth frequently
Try not to start orthodontic treatment too close to your due date. We want to make sure you have plenty of time to adjust to your new braces.
Use warm salt water mouth rinse to fight against oral bacteria. Salt helps develop the proper pH balance needed to keep your gums healthy. Studies show that bacteria weakens in an environment that is mostly pH balanced and thrives in an acidic environment.
How to make warm salt water mouth rinse at home:
1/2 a tsp. of salt mixed with 1 cup of warm water. Rinse your mouth with this 2-3 times/day for 2-3 weeks in order to reduce puffy gums with braces and eliminate pregnancy gingivitis.
Facts about pregnancy hormones and dental health
Hormonal fluctuations during pregnancy might change your body's reaction to plaque and germs. These changes might increase the chance of periodontal disease and gingivitis during pregnancy. Here are some important things to keep in mind if you are wearing braces while pregnant:
Pregnancy hormones may make your teeth looser than usual.
Increases in estrogen as well as progesterone levels are common during pregnancy and will change the way in which your gums respond to plaque. This is why brushing and flossing is extremely important for everyone, especially expecting mothers who are in orthodontic treatment.
Pregnant women are at a higher risk for getting gum disease.
There must be a constant emphasis on oral hygiene during pregnancy, with or without braces.
Morning Sickness
If possible, it's best to wait and start orthodontic treatment after the 1st trimester of pregnancy when early morning symptoms are usually no longer present. Why? Excess acid from stomach bile can weaken and cause permanent damage to teeth enamel.
If you already have braces and are not yet to your 2nd trimester, it's crucial that you rinse your mouth out with water after experiencing morning sickness. Otherwise, the acid from your stomach bile will form a thin layer over your teeth and sit there for long periods of time, eating away at your enamel. Be sure to ask your orthodontist about using fluoride mouth rinse to protect your teeth from decay during pregnancy.
Which method is best for pregnant women: Braces or Invisalign?
Since pregnant women are already at such a high risk for gingivitis and gum disease, Invisalign is typically more convenient for expecting mothers. Invisalign, unlike braces, can be removed while eating to avoid any excess food getting stuck in your teeth. This method of orthodontics also makes it easier for you to brush and floss your teeth every day, keeping your gums as healthy as possible.
Keep in mind that having braces while pregnant is not technically frowned upon. If you are someone who already takes great care of your teeth, and will do so while pregnant, than either treatment option is doable!
What can I eat while pregnant with braces?
Anyone who wears braces should avoid eating hard, crunchy foods that can result broken brackets and wires. Women who are pregnant and wearing braces, however, must be extra careful to make sure they are getting their daily nutrients recommended by their doctor. Proteins such as soften chicken or fish are good alternatives to meats like steak and beef jerky. For tips on what you can and can not eat with braces, click here!
It's likely that pregnancy cravings will take over at some point during pregnancy, and that's ok! At Fry Orthodontics, we want to make braces fit into the life you are already living. As long as you chew slowly and carefully, there's no reason you can't give in to those cravings every once in a while. :)
If you're interested in braces or Invisalign, and would like to schedule a free consultation at one of our Kansas City locations (Overland Park, South Overland Park, Olathe, Northwest Olathe, Ottawa, Shawnee, Prairie Village, Lee's Summit, Raytown, Northland, Leavenworth), visit our website at: www.fryorthodontics.com.