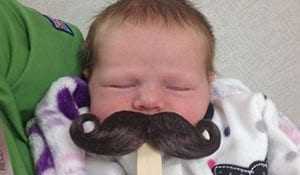 Not only has Fry Orthodontics been beard crazy this November, but we have also been getting our hands dirty in some arts and crafts. Recently our new team values were presented with a challenge of getting crafty and expressing our values with paint on a canvas. While getting our creative juices flowing, it has brought this new idea of how women can support No Shave November.
No Shave November is about embracing your body hair, letting it grow for an entire month, while raising awareness for Men's Health issues. Very few women choose to take part in supporting No Shave November for many reasons. One of these reasons being that women can't grow beards. Well if you can't grow one, why not make one!! Most women love getting crafty and letting their creative juices flow. This No Shave November host your very own Beard Making Contest! The sky is the limit. Use any thing you can think of and make a beard or mustache for you to wear and raise awareness this No Shave November. Here are some great ideas to give you inspiration!
Share your creations with us! Upload them to our No Shave November webpage or post them on our Facebook page. We would love to see what you come up with! Share this idea with all your friends. Remember, every time you share our blog posts or comment and post on our Facebook page, Fry Orthodontics will donate $1!