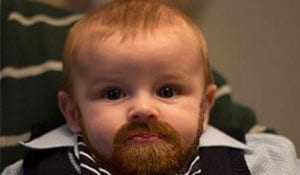 Beards make life worth living. Wait, that's not how that saying goes! But we have some fun facts you might know are true … but only if you are a card-carrying fabulous bearded man:
Growing a beard increases your respect.
"Both women and men thought bearded men—over six weeks of growth, with no trimming—looked older and more likely to command respect from other men. (Men's Fitness Magazine Study)"
Facial hair deems a man more "manly".
"Wow, that clean shaven guy looks super manly." Said no one ever.
Beards make life more meaningful.
"With great beards, come great responsibilities." (SpiderMan)
Beards make a man more mature.
"I just shaved. Annnnnd, I've rejoined puberty."
Facial hair makes life more fun.
"This is not just a beard. It is a passport to AWESOME!"
Join Fry Orthodontic Specialists in our efforts to raise men's health awareness and raise funds for the American Cancer Society! We have partnered with the No-Shave November campaign. Your participation will help start conversations about men's health issues, raise funds for cancer research, and save lives.
Guys, skip the shaving this month and get creative! Kids & Ladies, you can participate by sharing a virtual beard or mask. Take pics of your pets too! Share your beard and mustache pictures on our No Shave Gallery. We want to see you scraggly for a cause!
PLUS! Every time you post a photo of yourself or family member (pets too!) on our gallery, or share these No-Shave blogs and social media posts, Fry Orthodontic Specialists will donate $1 (up to $20,000!) to the No Shave November Foundation!
We've got more info and hair at our blog!