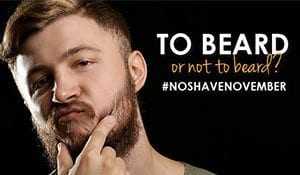 As you consider No-Shave November to help a great cause, we'd like to interrupt this great fun event with some fun, yet odd facial hair facts. Bet you didn't know these facts!
Peter the Great taxed beards to encourage clean hair-free faces. That's over-taxation!
Pogonotomy is the fancy word for shaving. Pogonotrophy is the word for growing a beard. Wonder what the word for stubble is?
The Ancient Egyptians wore fake metallic beards as a way of honoring special occasions. The women wore them too. Could this be the beginning of No Shave November?
Abraham Lincoln grew a beard at the advice of an 11 year old girl who told him his face was thin. Ah, the wisdom of a child!
The mustache is not without its clever nicknames: Whiskers, Crumb Catcher, Face-Lace, Lip Shadow. What do you call your 'stache?
Average human hair grows at a rate of .014 inches per day, which is about 5 or 6 inches every year.
So now that you've learned a lot about facial hair and laughed a little, won't you join us in our No-Shave November campaign? We'd love to read your funny quips and see your bead and mustache pix. Slap a fake beard on your pets; we'd love those photos too!
Join Fry Orthodontic Specialists in our efforts to raise men's health awareness and raise funds for the American Cancer Society! We have partnered with the No-Shave November campaign. Your participation will help start conversations about men's health issues, raise funds for cancer research, and save lives.
Guys, skip the shaving this month and get creative! Kids & Ladies, you can participate by sharing a virtual beard or mask. Take pics of your pets too! Share your beard and mustache pictures on our No Shave Gallery. We want to see you scraggly for a cause!
PLUS! Every time you post a photo of yourself or family member (pets too!) on our gallery, or share these No-Shave blogs and social media posts, Fry Orthodontic Specialists will donate $1 (up to $20,000!) to the No Shave November Foundation!
We've got more info and hair at our blog!