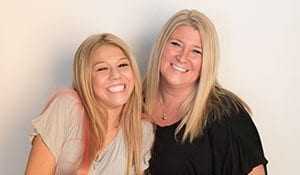 Now that you have the smile you always wanted, how do you keep it? Retainers are an important part of maintaining your new smile!
Q: What is a retainer?
A: Retainers are custom-made, removable appliances that fit over your teeth and help hold them in place after your braces have been taken off.
Q: What types of retainers are there?
A: There are several common types of retainers.
Traditional removable retainers: This type of retainer is made out of colored acrylic and wire. There are dozens of styles and colors to choose from.
3D Clear Retainers: This retainer is made from clear plastic and fits over your teeth. In addition to keeping your teeth in place, it can help protect the surfaces of your teeth if you have the habit of clenching or grinding them while you sleep.
Bonded retainers: A bonded retainer consists of a small wire glued to the backs of your front teeth. Fry Orthodontics encourages patients to wear a removable 3D clear retainer over bonded retainer to guarantee teeth do not move.
Q: How much will retainers affect my daily life?
A: It depends on the type of retainer you have. In general, retainers are far less noticeable than braces, so the appearance of your smile will not be affected by them. It may take you a couple days to get used to the feel of wearing one, but after that you should barely notice them.
If you have a bonded retainer, you will need to brush the surrounding area thoroughly and learn to floss around the retainer. Floss threaders can be especially helpful for this.
Q: How often (and how long) do I have to wear my retainer?
A: The purpose of your retainers is to maintain the position of your teeth. Many of the factors causing crowding persist throughout life. As part of the aging process the teeth tend to shift.
Therefore, it is very important to maintain retainer wear for LIFE. We recommend you wear your retainers every night.
Q: What if I lose my retainer?
A: Typically replacing a lost or damaged retainer costs as much as $400. But no matter whether the dog chewed the retainer, or it went out with the trash, Fry Orthodontics provides free replacement retainers for life!
Do you have other questions about braces or retainers? Let us know, or check out our full list of FAQs here.